Does your startup or scale-up have a solution that reduces food waste or (re)uses food waste streams? Are you looking for an opportunity to boost your company? Pitch your solution and get access to new markets, clients, strategic partners, expertise network and funding opportunities!
TOWARDS ZERO FOOD WASTE
The global demand for food keeps increasing, while limited agricultural land and natural resources put an increasing pressure on the global food production system. At the same time 30% of all the food that is produced is lost or wasted somewhere in the food chain. If we want to be able to meet the global demand for food, this loss of food needs to change.
OPEN CALL: LOOKING FOR STARTUPS, SCALE-UPS AND SME'S!
Together with leading food, retail and packaging companies we are looking for startups, scale-ups and innovative SMEs with new solutions and products. Solutions, products, services or technologies that lead to less food waste and a better use of residual streams from anywhere in the food chain, for food, feed or other applications.
The purpose of the open call is to discover and select the best solutions of startups and scale-ups and to connect them with leading food (packaging) companies. By partnering up, sharing knowledge and expertise, access to markets and networks, access to funding and more, we help you to accelerate your venture.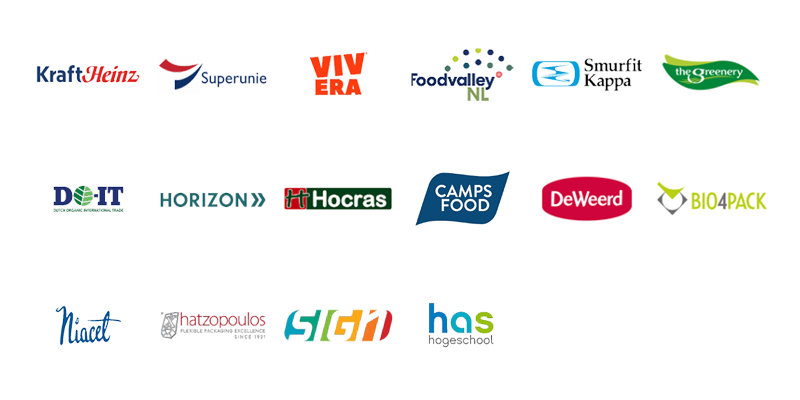 ABOUT BRAVE NEW FOOD
Brave New Food
is an open innovation platform to discover and accelerate next generation food solutions. Through our innovations challenges we select the best startups and scale-ups and help them to accelerate, by connecting them to leading food companies to partner up, sharing knowledge and network, and providing them with funding to scale.
WHY PARTICIPATE
Pitch your company and solutions to leading food, retail and packaging companies
Be invited for 1:1 during our matchmaking event with one or more leading food(related) companies (or investors) interested in your product or solution.
Create new opportunities to collaborate with leading food companies to test and proof your solutions, or even better, a strategic partnership, to produce, scale or distribute your products.
Funding opportunities up to €1.000.000,-.
WHAT ARE WE LOOKING FOR?
Products: that make use of and create new value with rescued food (ingredients) that would otherwise be wasted or lost for consumption.
Conservation: (packaging) technologies, materials, methods and other concepts that improve shelf life, preserve food freshness and quality and enhance expiration dates.
Logistics and distribution: technology, processes, platforms and marketplaces that connect supply and demand of residual food streams and resources or that decrease losses during transportation.
Recycling and upcycling: alternative channels and business models for food waste as input material for food, feed, fibre or fuel uses.
Retail or foodservice concepts that reduce food waste or improve consumption of food that is close to its expiration date.
Consumer Behavior: products, tools or services that enable consumers to reduce food waste in their own kitchen or make better use of food in their fridge or pantry.
Production and processing: new production and processing methods to decrease waste, improve preservation and shelf life.
Wildcard: any solutions we did not think about, but you did. Anything.
Does your startup or scale-up have a food (waste) solution within one of these categories?
Take this opportunity and pitch your solution!
YOUR PITCH
To increase the chance of being selected by one of more companies for the matchmaking event, we advise you to come up with a professional and neat looking pitch deck (max 6 pages / 18 slides) which includes:
A description of your product or solution (max 3 pages / 9 slides): give a short description of your product or solution, as detailed and visual as possible. Also describe what specific problem you solve with your solution or product and to who this applies.
A description of your company & team (max 1 page / 3 slides): how and when was your company founded? In which phase are you? How many people? In which market are you active? Also a short description of the (managing) team.
A description of your ambitions to grow and your needs (max 2 pages / 6 slides): give a short description of your growth ambitions. Where do you want to be in 3 years? What do you need to get there? Tell us what kind of support and expertise (market, distribution, partners, funding) you are looking for.
The pitch may be submitted in free form (presentation, slide deck, letter form), but must be uploaded as a PDF file (landscape or portrait A4 - max 30MB). Videos, example websites, etc. can be included as a link.
Pitches in Dutch are allowed, but English is strongly recommended and preferred.
Upload your pitch.
ASSESSMENT CRITERIA
Your pitch will be evaluated on the following aspects:
Feasibility fit: how your product/proposition/solution can be further developed, deployed and commercialised.
Impact: the potential for your product/proposition to have a large impact (through solution-problem-fit) and scaling potential.
Team: the knowledge, experience, diversity and network of your team.
TIMELINE
Tuesday November 24, 2020: launch Open Call
Tuesday February 16, 2021 at 17.00: deadline Open Call
February 17 - March 8, 2021: selection by the participating food companies & investors
March 8- 12, 2021: announcement & invites matchmaking event
Thursday March 25, 2021: (online) matchmaking event
Q2 2021 onwards: discuss and start collaboration

TERMS AND CONDITIONS
Participation is open for startups, scale-ups, SME's, grown-ups, innovators and scientists with an innovative product and/or technology.
You will remain the owner of your intellectual rights, concept or solution in your pitch, until you agree otherwise.
We strongly advise you to document everything you share with others and mention that information provided is confidential and intellectual property rights remain with you/ your company until agreed otherwise.
Be aware of the fact that your pitch will be viewed by industry professionals and (concepts and ideas in it) may be shared with others. Keep IP sensitive unique (technical) details out of your pitch, keep it a secret that you can share later.