We need every cog in the chain to make our food system more sustainable. Distribution companies like Camps Food also play an important role in this. The Breda-based company is in the process of becoming a B-corp and, when compiling its portfolio, takes a critical look at a brand's impact on the planet, the consumer and society. Johan-Pieter Volkerink, Category Development Manager at Camps food is highly motivated: "If we both see the chance to change: let's do it together!"


Distributor Camps Food helps big brands, innovative start-ups and all types of companies in between to win the Benelux market. Nature Valley, Häagen-Dazs, Ella's Kitchen, Chio, Tyrrells and Kleinstesoepfabriek are just a few examples of its portfolio. "We have years of experience in this market, know the wishes of both retailers and consumers, are aware of the latest trends, know the best route and time to market and we have the tools to unburden brands in areas such as financial and promotional matters towards retail," says Johan-Pieter. "And not unimportantly; we trust our gut feeling when making decisions."

Trend spotters
This combination has already produced several successes. "For example, we are very proud that the organic children's food brand Ella's Kitchen is now number two in its category." According to the category development manager, this is partly because the brand has capitalised on the 'on the go' trend with its packaging. "Parents have less and less time, so a squeeze pack is very practical."

Sustainable focus
By advising member brands on trends in a timely manner, Camps Food can increase market share, but also make a mark on sustainability. "Apart from the fact that consumers are increasingly interested in sustainable products, as a company we feel it is important to contribute to a better world through our services. The Benelux food market is moving faster than ever. We believe this change is a great opportunity to move the fast-moving consumer goods business in the right direction."


Feed the change
In concrete terms, Camps Food selects its brands on the basis of three criteria: good for the planet, for the consumer and for society. "This manifests itself in numerous projects on recyclable packaging, footprint reduction, better nutritional values and the promotion of healthier food," explains Johan-Pieter. "Of course, we cannot do this alone. We continuously inspire and advise our partners on sustainable packaging solutions and increasing nutritional value, but ultimately they decide, since they remain the brand ownership. By spreading our mission, we are improving the world of food together."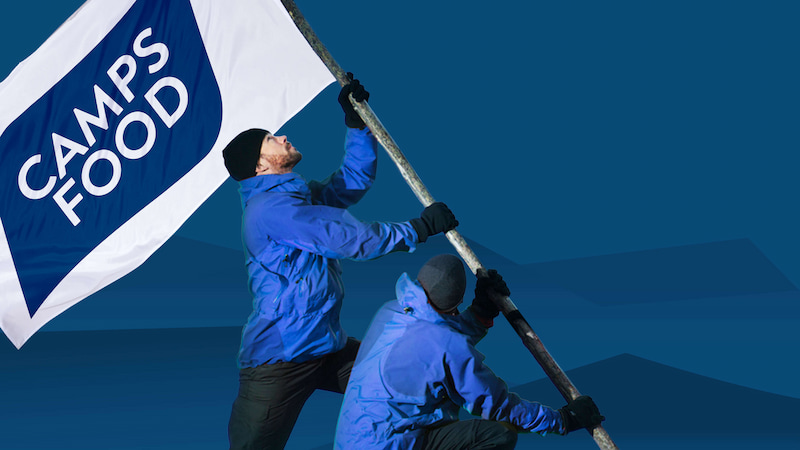 Accelerating sustainable solutions
That mission does not stop at words. "Currently, we are in the process of becoming a certified B Corporation," he proudly explains. "That kind of company balances profit and purpose to use business as a force for good." This sustainable focus goes hand in hand with Brave New Food's mission. "We have joined this club of game changers because we can strengthen each other," Johan-Pieter says. "Through Brave New Food we get to know new innovative brands, which we can then help to get a foothold or scale up in the Benelux."
Shortlisted startups
The first Brave New Food round of open calls on the themes plant-based solutions, no more food waste and sustainable packaging resulted in a shortlist of eight interesting parties. "We focused on parties that are involved in food production or brand development and in a stage of market expansion, because we can accelerate their growth directly."
Closing the gap
"Take the Dutch tea producer LocalTea, for example," continues Johan-Pieter. "They have some distribution in the Dutch Food retail, but I strongly believe we can help them scale with our strong team in operations, sales and category management. Outsourcing these activities to a dedicated distributor like Camps Food will give the brand owners the possibility to focus on building their brand. And so there is also a Belgian plant-based dairy spread startup that sells everywhere across Europe except in the Netherlands. This proven track record in countries around us makes it a very interesting startup to meet. For us it is instructive to know where the gap between brand and retail exists and how we can close it. Hopefully, during the matchmaking event on 25 March, we'll be able to establish some nice collaborations and make them a reality within six months."
Are you a leading food company and do you want to accelerate innovation? Join our club of gamechangers now! Read more about our platform and get in touch.