Chef Pascal Labrie's innocent food truck concept got extremely out of hand, in a good way. This startup-rollercoaster earned him and his brand new team the Horecava Innovation Award. Next to that, their Karma Kebab is now available in 80 DEEN supermarkets throughout the Netherlands. Brave New Food is the perfect partner for Labrie's ambitions to take his business to a higher level.
He will shave off his beard when the business is sold in America. "Which is still a long way to go," says the founder of Karma Kebab smiling, "but until then, I'll let my beard grow." Selling the company is not his mission. Pascal Labrie rather wants to make Karma Kebab the largest kebab brand worldwide.
Challenge accepted
Before his passion to conquer the world with plant-based kebab emerged Labrie was, among others, head chef for the Food Line-up. "The Food Line-up was asked by Rabobank and MOJO to open a 'restaurant of the future' at Lowlands. When it turned out that we could also operate our restaurant of the future, Brasserie 2050, at night, the search for a future-proof night snack started. When you're at Lowlands with your friends and drank 14 beers; what do you want to eat? This is how the idea for plant-based kebab was born."
Kebab made from celeriac
Labrie consciously chose not to use soy for this vegetarian version of the ideal late night snack. "Soy has to be shipped from the other side of the world, then be processed and finally transported again with trucks. While there are plenty of locally produced products to be found that are just as tasty." That is how he ended up using cereals and celeriac. "It is seasonally available in the Netherlands for ten months per year and has a long shelf life. We also dry the tuber before we process it, which extends its shelf life."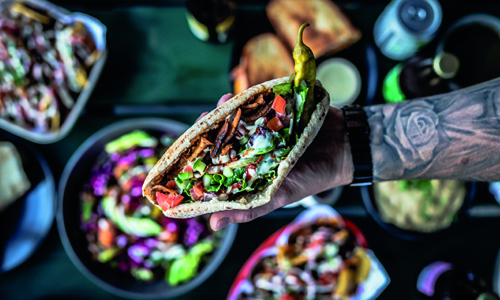 Acceleration due to corona
Karma Kebab (then called "Karma Shoarma") became a big hit at Lowlands. The festival Into The Great Wide Open then asked them to be part of the festival with a food truck "Eh food truck? I quickly arranged that. Forty more festivals followed and we received the Horecava Innovation Award. Unfortunately the coronavirus emerged and everything stopped. We had 160 festivals planned in 2020, for which we purchased three new food trucks. So that was a bit of a setback. In order to stay in the momentum and keep growing, our plan for this year is to conquer the supermarkets."
Tasting is believing
Labrie firmly believes that consumer products are created in the hospitality industry. "The carpaccio that people now make at home for Christmas, they ate in a restaurant first. New concepts are invented there, which slowly trickle down to the consumer. My motto is "tasting is believing"; when you tasted something good, you will become fan and want to buy it."
Good karma home delivery
After Lowlands there was an immediate product demand for Karma Kebab by the previous consumers. "We therefore sell festival boxes with Karma Kebab, pitas and sauce via our website and we have recently delivered via UberEats and Deliveroo in Amsterdam and Utrecht." In the first months of the corona crisis, Pascal Labrie and partner Marcel van der Heijden delivered Good Karma to catering establishments throughout The Netherlands. Which resulted in being on the menu at 70 catering establishments.
Not a vegan finger
The next step is the supermarket. "We will soon be in 80 DEEN stores throughout the Netherlands," Pascal proudly mentions. "For the time being, we will only sell 160-grams packaging, but hopefully soon in larger quantities, because that is better for the environment. We don't point with a vegan finger at all," Labrie emphasizes, "I prefer to have our product available in the meat section, so that consumers can decide whether they want chicken, pork or vegetable kebab that evening. Hopefully our product will encourage people to think, because consuming as much meat as we do now will simply not be possible in 2050."
Not just flat money
The journey from festival to supermarket is a complicated process, the chef admits. "You end up in a completely different world, with packaging and bacterial requirements and so on. Fortunately, we recently welcomed Hidde Stolwijk on board. He is responsible for the retail branch.
We are also very happy with Brave New Food as our partner. We were not merely looking for money. More important was finding a cooperative investor with knowledge of food production, logistics and finance. Preferable one that has been involved in the whole process, from beginnen to end. Including all the hurdles.''
Labrie recites the support they received from Brave New Food: "They have valuable contacts, know the benchmarks and even visited our factory to advise us how we can optimize our processes. They are involved from A to Z, that is incredibly valuable! With every step we take, we search for the most sustainable route to get our Kebabs somewhere. Anything for good Karma! "
Are you a leading food startup or scale-up and do you want to get access to new markets, expertise and captial? Join our club of gamechangers now! Read more about our platform and get in touch.