ABOUT US
Royal FrieslandCampina N.V provides hundreds of millions of people throughout the world with dairy products and the valuable nutrients from milk each and every day. FrieslandCampina processes the raw milk produced by dairy farms, whose owners are members of Zuivelcoöperatie FrieslandCampina U.A., into dairy products and ingredients. Together with member dairy farmers, FrieslandCampina manages the entire production chain: from grass to glass.
FrieslandCampina provides consumers with dairy products, such as milk, yoghurt, condensed milk, dairy-based beverages, cheese, butter and cream. In addition, the company supplies nutrition to specific consumer groups, such as children, the elderly and sportspeople. It provides professional customers, such as bakers, pastry chefs, chocolate confectioners, chefs and caterers, a broad product range of creams, butters, desserts and fillings. It also supplies high quality healthy and functional ingredients for all stages of life to international producers of foods and it supplies ingredients for pharmaceutical applications.
FrieslandCampina is one of the largest dairy companies in the world with a cooperative tradition going back almost 150 years. In 2020, 11,100 member dairy farms in the Netherlands, Germany and Belgium supplied approximately ten billion kilos of milk for processing into dairy products and ingredients.
FrieslandCampina has branches in 38 countries and exports to more than one hundred countries worldwide. At year end 2020, FrieslandCampina employed 23,783 workers (FTEs), with a revenue of 11.1 billion euros.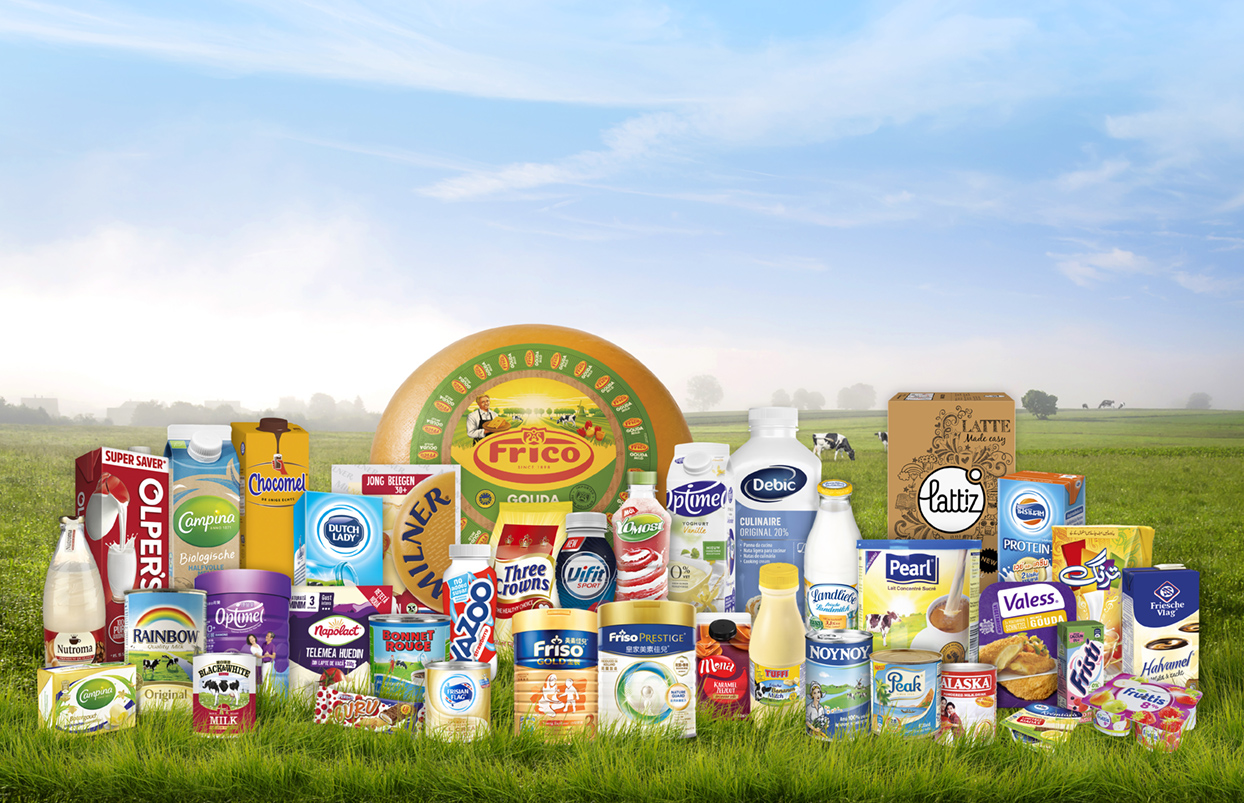 OUR MAIN INNOVATION GOALS
Within FrieslandCampina we have a strong purpose: Nourishing by Nature. This stands for better nutrition for the world, a good living for our farmers, now and for generations to come. Founded on the purpose Nourishing by nature, FrieslandCampina has set out its strategic objectives for the coming years in its Our Purpose, Our Plan 2.0. The strategy comprises four priorities:
Win with nutrition

Infant Nutrition
Healthy ageing
Performance & lifestyle nutrition

Serve the 24/7 consumer and customer
Nourishing a better planet

Better Nutrition affordable for everybody
Better Climate; carbon-neutral future
Better Nature; improving biodiversity
Better Packaging; 100% circular
Better Sourcing; 100% responsible

Elevate our essentials

Excelling in commodity management
Build a profitable cheese business
Creating robust milk processing flexibility
SPECIFIC INNOVATION NEEDS
Within the strategy we have some specific innovation areas for which we are also looking for longer term disruptive innovations. These topics are:
Plant Based (consumer products as well as Ingredients)
Digestive health, immunity, muscle mobility and cognition
Digital D2C platform solutions
Personalization
Dairy protein via fermentation
Solutions around sustainability matching with Better Climate and Better Nature
Recyclable and Reusable (Circular) Packaging solutions
WHAT WE CAN OFFER STARTUPS, SCALE-UPS & SME'S
Within the company we have great people with a wide range of knowledge around Nutrition and Health. We have an Innovation Center in Wageningen on the campus of the Wageningen University (WUR), where we work together with a multicultural and talented group of people. Furthermore we have a strong route-to-market presence in both the B2B and B2C business in over 100 countries worldwide for which we produce the fast majority of our products at our own manufacturing locations spread across these geographies. Cooperation, whether it is with our farmers, customers and consumers, or other partners, sits in the heart of FrieslandCampina. Depending on the solution you offer we can explore together what your needs are and how we would like to build our partnership.